When you're planning a destination wedding, you really want to say "Yes!" to your chosen location. It only makes sense to plan most important day of your life in a beautiful place. Cabo beach weddings are best known for their natural wonder. You won't be disappointed no matter where you choose to have your beach wedding in Cabo.
However, the beautiful location isn't the only reason beach weddings in Cabo are popular. Cabo San Lucas has excellent cuisine, with many skilled local chefs ready to prepare any dishes you prefer.
There are also endless activities to engage in, from shopping, a day spa, golfing, and fishing. Whatever you enjoy doing, you will find it here. With everything Cabo San Lucas has to offer, it makes a great honeymoon destination as well!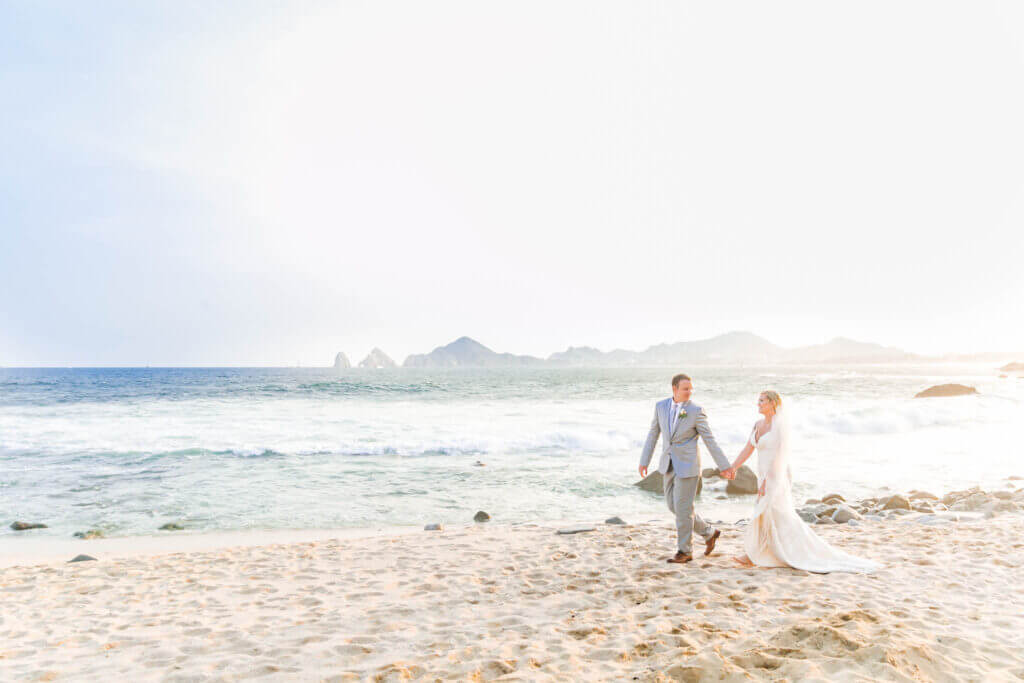 What to Know When Planning Your Beach Wedding in Cabo
While you could plan a wedding yourself, relying on a wedding planner is a smarter choice. For couples planning to have their wedding abroad, a wedding planner offers familiarity with the local regulations and vendors. Choosing wedding planner that has an existing relationships with local vendors is important.
Whether you are looking for luxury or working with a budget, the right wedding planner can help. For one of the best in the business, look no further than Cabo Beach Weddings. We have the expertise and partnerships with local vendors needed to ensure your wedding is everything you have dreamed of. When you're ready to take the next step towards the wedding of your dreams, contact us.
Here Are the Dreamiest Beach Wedding Locations
Cabo San Lucas has some of the most beautiful beaches in the world for you to choose from for your wedding. From resorts, to private or public beaches, you'll find venues with sweeping seascapes, stunning rocky backdrops, and stunning white sands. Here are a few of the most romantic wedding locations.
Elope on Lovers Beach, Ask Cabo Beach Weddings How
One of the more popular spots for a beach wedding in Cabo is Lovers Beach—no wonder even the name is perfect. Tourists flock to this public beach to get near some of the most spectacular rock formations, including El Arco and Neptune's finger. Its gorgeous blue waters and unforgettable views make it a standout wedding venue.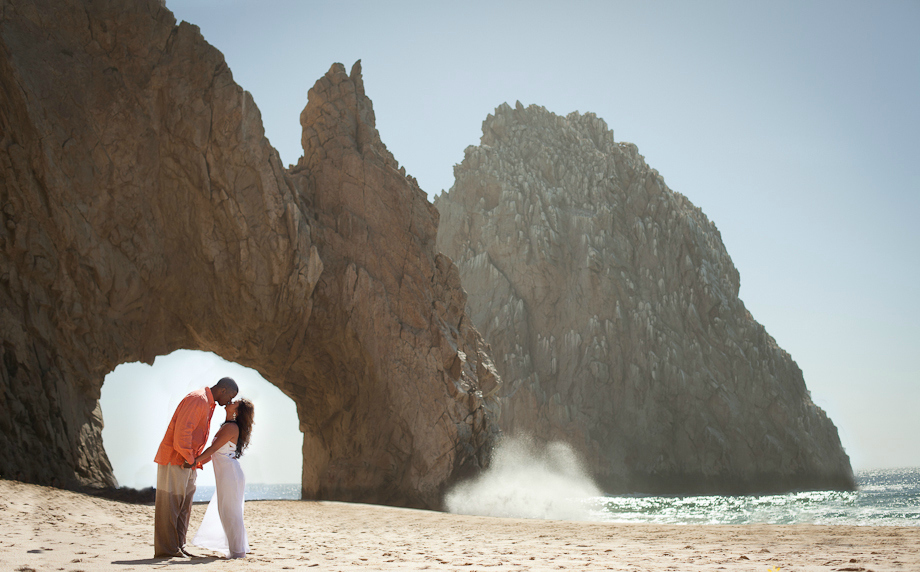 Start Your Next Chapter at Cabo Bello Beach
Many lovers have exchanged their vows in the seclusion of Cabo Bello Beach. This beach has beautiful rock formations like Lovers Beach, and it is also a public beach. But, it offers more privacy, which is excellent for those who prefer a more low-key ceremony.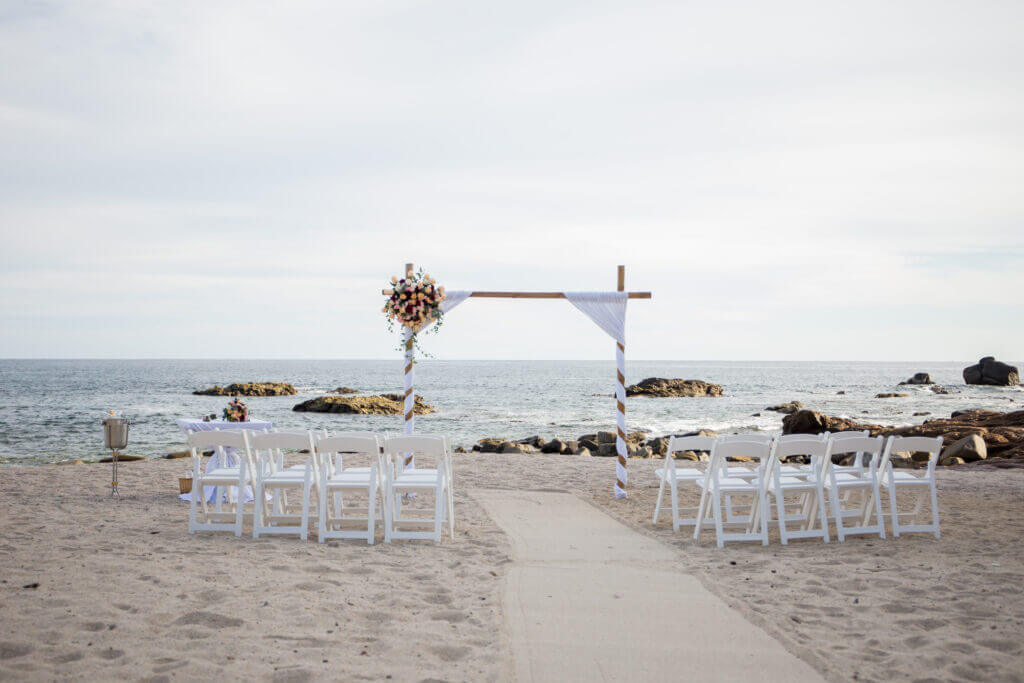 Exchange Vows on Pedregal Beach with Cabo Beach Weddings
No bride or groom would regret getting married under the sweeping clear skies at Pedregal Beach, one of the most popular spots for a Cabo Beach Wedding. In addition to its dramatic rock formations, it offers a spectacular view of the sunset. You'll find it is the perfect choice for anyone wanting a quiet wedding. Anyone wishing to enter this beach must enter through a private establishment, so there are no vendors or noisy watercraft to disturb your wedding.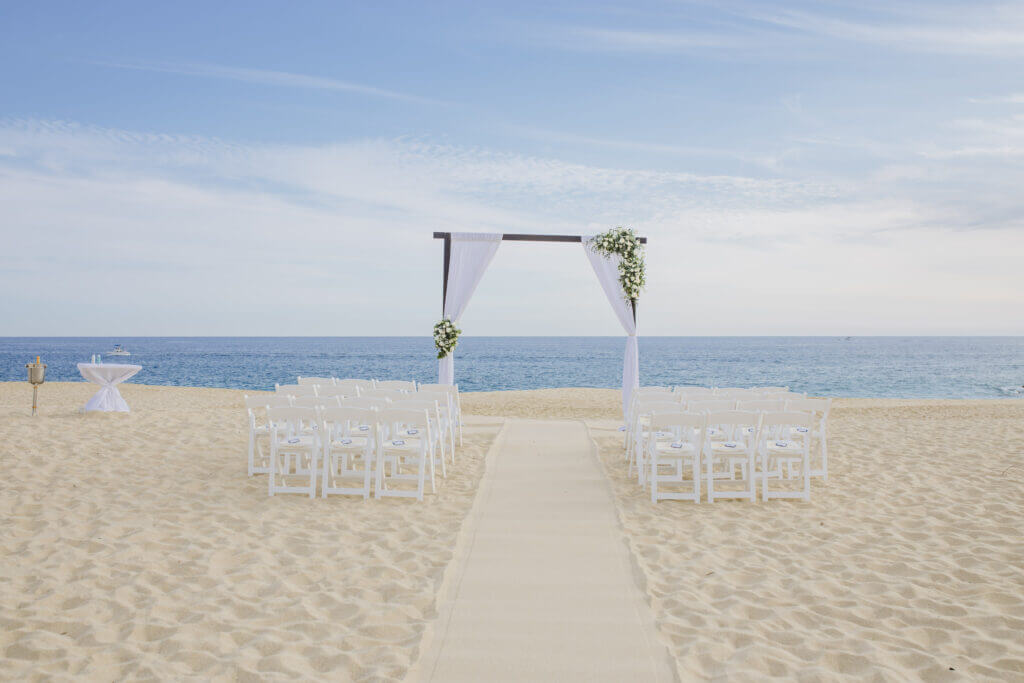 Say "I Do" at Sunset Mona Lisa
For soon-to-be spouses who want wedding photos they'll remember forever; Sunset Mona is the spot to go! One of the most popular wedding venues in Cabo, it has nine different terraces, so you can choose the size that best fits your wedding party. The restaurant also has a specular view that allows you to see Land's End and the famous El Arco. There is no better place for stunning wedding photography.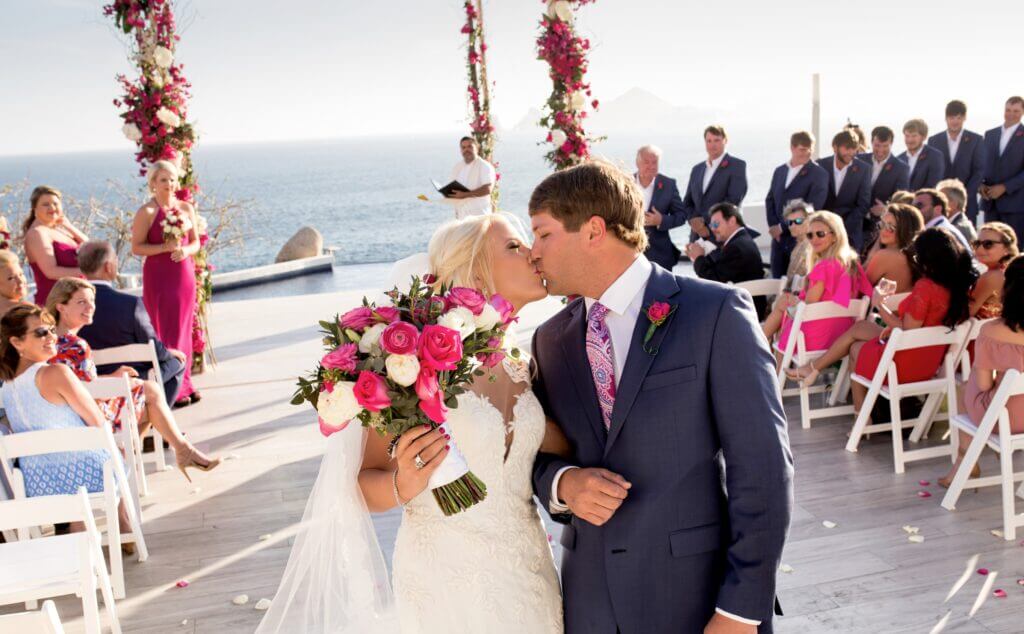 Kiss the Bride at Baja Brewery
For the fun-lovers and party-throwers, Baja Brewery will make the wedding bash of a lifetime! It is located on top of one of the tallest hotels in Cabo, which means you'll get an absolutely unforgettable view of the ocean and Land's End. If you and your partner love craft beers, Baja Brewery has the kind of menu beer enthusiasts dream about, and that stunning view means you are sure to get beautiful, memorable wedding photos.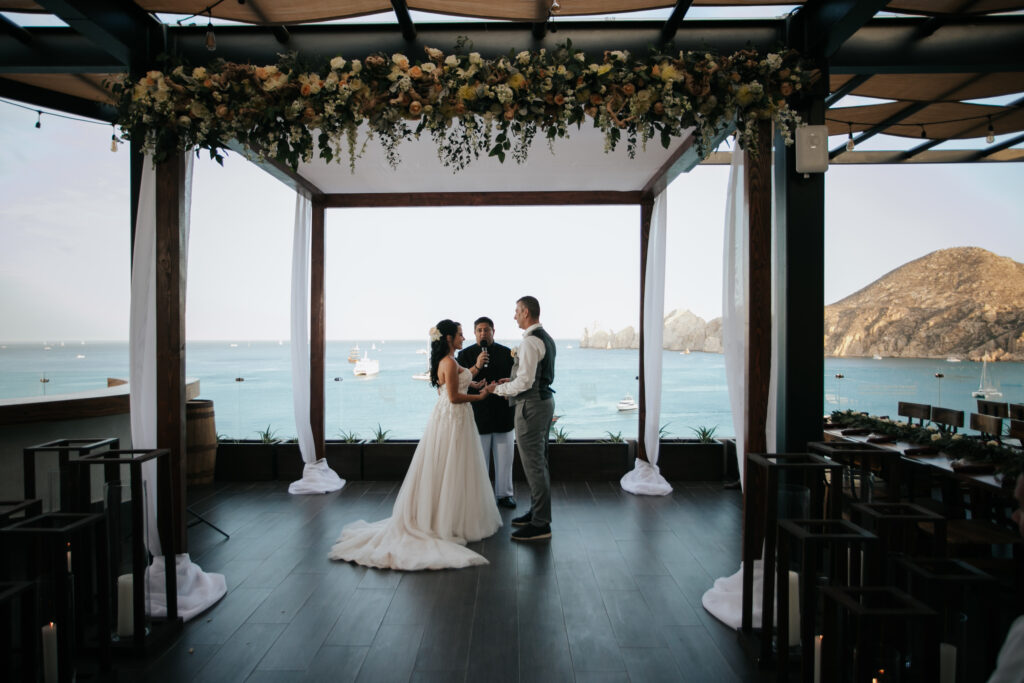 What Are the Legal Requirements?
Before you get ready to say "I do," you've got to ask, "How do I…?" When planning a Cabo beach wedding, you have a number of legal requirements to consider. No spouse-to-be wants to find out on the day of the wedding that they missed something important.
The first detail you will need to consider is obtaining the appropriate permits. If you need to obtain a permit from the city, it will cost approximately $45 to $85. If you need a permit from a private housing community, it will likely be anywhere from $100 to $500.
Next, in order to arrange a marriage in Cabo San Lucas, you will need a wedding license. Your Cabo Beach Wedding planner can help acquire all the needed documents at the registry office in Cabo. Also, you will need a blood test, and it must be completed in Mexico 48 hours before the wedding. You will definitely need a passport, tourist Visa cards, and a birth certificate, and the birth certificate will need to be annotated and translated.
Acquiring these documents can take quite some time, so you should make sure to get everything together well in advance. You should also inform your guests of your plans in time for them to deal with the necessary paperwork.
Fortunately, the planners with Cabo Beach Weddings will help you in making sure you take care of all of the paperwork and other official requirements for a Cabo wedding. They will already be familiar with any regulations, which will help ensure everything official is taken care of before the big day arrives.
What Do I Need for a Civil Ceremony?
Here are some other legal requirements to keep in mind if you choose a civil ceremony.
Only civil wedding ceremonies are legally valid in Mexico. Because of this, many couples choose to get married in the United States and then have a religious or civil ceremony in Cabo San Lucas. Although not all couples do this, a legal ceremony is certainly an option.
It is important to remember that civil ceremonies will not be performed on Sundays or on Mexican Holidays.
Four witnesses are required, and they must have their original passports and copies.
What About a Symbolic Ceremony?
Most couples that travel to Cabo to get married choose a symbolic ceremony. This type of ceremony is not legally binding, but it also does not have the legal requirements of a civil ceremony, which means couples are free to customize the ceremony.
This type of ceremony is a lot like a wedding in the United States. It can be religious if you choose. You can have whatever music you want and write your own vows as well.
Best Seasons for Your Cabo Beach Wedding
Now that you know what you'll need for a beach wedding in Cabo, you may be wondering what time of year would be best for the ceremony. The weather is warm year-round in Cabo! But, due to some other weather issues, there are some months of the year that are better than others for a wedding.
November through April is the perfect time for a beach wedding in Cabo. This is the best time of year for a wedding here, no matter what time of day you choose for the ceremony. Summer weddings are popular in the United States. Yet in Cabo, the weather in the summer can be very warm and humid, and the afternoons can be quite uncomfortable. So, a winter wedding would likely be more pleasant for you and your guests.
Show-Stopping Décor Ideas for Your Wedding
When you choose a beach wedding, you already have the ocean as a beautiful backdrop. This means that no matter how you choose to decorate, your wedding will be beautiful! This makes it easier to stay within a budget.
Most beach weddings will have a wedding arch, and there are endless options for decorating it, from lovely flowers to geometric designs. Romantic or fairy tale themes are a popular choice for beach weddings that make beautiful ceremonies and receptions.
Almost every wedding design choice starts with the color palette. Stay traditional with white and metallic tones like gold or silver, or you can mix it up with a little color. Pastels like blush, mint and baby blue are easy to coordinate, but bolder brides and grooms often opt for stunning colors like teal, burgundy, forest green, or magenta pink. Cool tones look great with an ocean backdrop, but warm colors certainly make a standout look!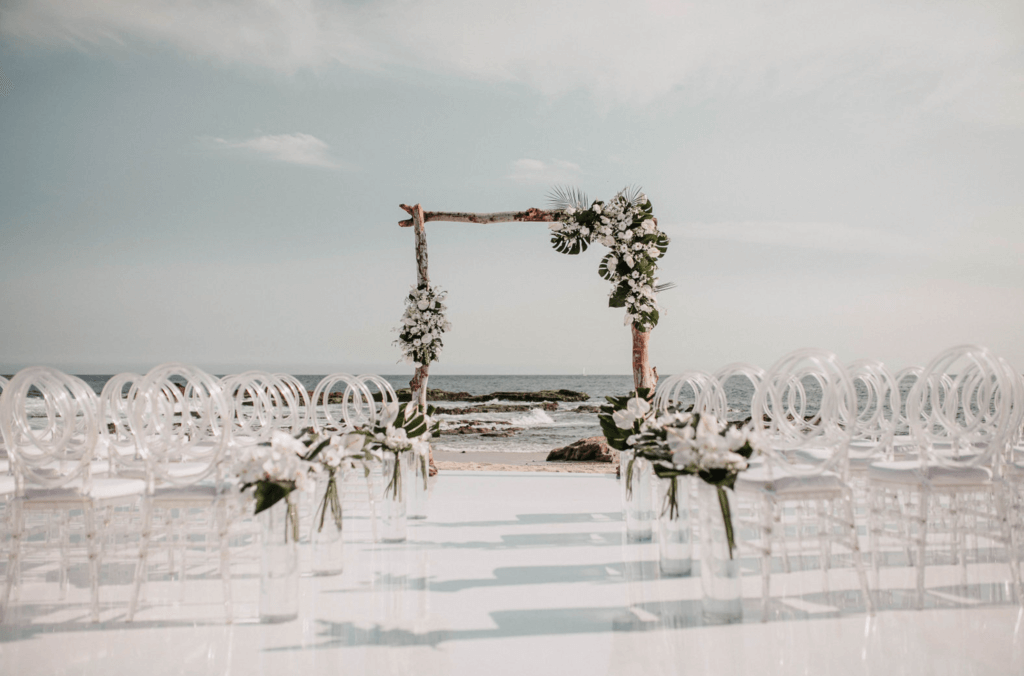 Don't forget the flowers! While traditional weddings usually keep it classical with roses or calla lilies, there's a whole world of floral arrangements out there. A qualified florist can work with you to create bouquets and decorations in almost any color of the rainbow! Match the ocean with bold blue blooms, or carry some flowers that compete with the sunset in stunning oranges and pinks.
Rose petals make a simple, affordable, very romantic décor for a wedding. If you choose to work with us at Cabo Beach Weddings, we have a variety of décor packages for you to choose from.
Another common choice for beach weddings is a nautical theme. Decorations such as driftwood, lighthouses, and starfish work well with this theme and are perfect for those looking for a casual beach wedding.
What Is the Appropriate Wedding Attire?
Remember, the dress code for a beach wedding will look a little different than an indoor ceremony. As with the décor, attire is very much a matter of preference. Keep in mind that if your wedding is going to be in the sand, it is best to choose a dress code that will be reasonably comfortable.
The safety and comfort of those participating in the ceremony should also be considered. Shoes are the most significant safety issue for dressing for a beach wedding. Trying to walk in the sand in heels is inconvenient, dangerous, and possibly painful! Opting for flats, wedges, or sandals is a more sensible choice.
The style of your wedding attire will depend a lot on whether you are planning a more casual or formal wedding. Suits and full-length dresses are a good choice for more formal beach weddings. However, a suitable material is essential. Choosing a lightweight material can help ensure you and the other participants in the wedding ceremony remain comfortable throughout the ceremony.
If you choose a more casual ceremony, it'll be easier to stay comfortable. But try not to be so casual that you end up looking like a tourist. After all, you still want your wedding photos to capture your special vision!
How Can I Estimate the Wedding Budget?
The average cost of a wedding in the U.S. in 2022 is $30,000, and you can have a lovely wedding for this price in Cabo. The price of a wedding in Cabo is similar to a wedding in the United States. But, you can also spend more or less depending on your budget. A beach wedding in Cabo really doesn't need to cost more than a wedding in the United States.
Your costs will depend on your venue, attire, décor, photographer, reception, and cake, and you have a lot of control over what you pay for these things. Often, purchasing a wedding package can ensure you have what you need while giving you a clear idea of the cost. Cabo beach weddings provide a number of reasonably priced packages with a variety of options.
You'll also want to include the cost of your lodging and meals, as well as some money for fun activities, in your budget. But, these can easily be adapted according to what you want to spend. You should be able to find a hotel for approximately $300 and up. Although, prices will vary by time of year. As with most places, meals will vary considerably depending on what you choose to eat and where.
If you need to stay within a specific budget, a wedding planner is especially useful. They can work with you to help keep you within budget. Also, a wedding planner may be more upfront about the total cost of services than some vendors may be. Sometimes, taxes and extra fees made be added to services that you were not aware of, but a wedding planner is likely to be aware of the actual cost of services through experience.
Your Dream Day Awaits
When it comes to a Cabo beach wedding, your special day can be anything you want it to be. You have so many locations to choose from to allow you to design the wedding day you have always dreamed of. Contact us to get started planning your wedding with Cabo Beach Weddings today!