Are you still considering getting married in Cabo, regardless of the recent pandemic?
Cabo San Lucas is among the hottest wedding destinations in Mexico of this decade! Since the world shut down many couples have put their wedding planning on the back burner, and some have even cancelled their dream destination wedding. One needs to remember that true love will always prevail! Whether you stay home and host your dream destination wedding in your own backyard or push through the haze and continue planning a Cabo wedding during COVID-19.
The best thing about memories is making them! Many couples all over the world are going through the same dilemma. It is best not to let your emotions make your decisions let your wedding planner come up with options before making a final decision, keeping in mind safety is always first. Knowing that there is a "Plan B" option will help ease planning a Cabo Wedding during COVID-19. Planning a wedding is stressful enough, then along came the pandemic to add its weight to it. Thank goodness you hired a wedding planner!
So why let COVID-19 rain on your Cabo wedding plans!
Here are some reasons why you should continue to plan your wedding in Cabo San Lucas. Since many have been out of work and are barely getting back to slow norm, budget is everything.  Weddings in Cabo San Lucas have just become more affordable than you think. Many vendors, venues, resorts, and airlines are offering discounts and incentives! Imagine a romantic beach wedding with the sound of the calming waves, sand between your toes, as you say your vows all with an affordable price. The beach wedding you have always been dreaming about with just you closest family members and friends.  A smaller guest list plays a huge role in budget!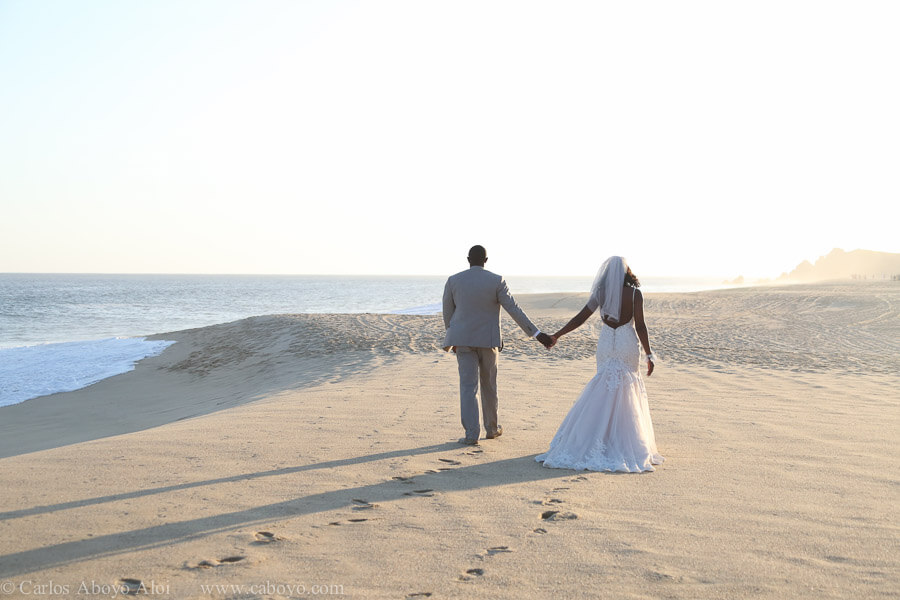 Now let us take a quick glance at your reception. Venues in the states will having you paying $200 plus per person. Not to mention most venues in the states are in banquet halls. Let's face it, with the new COVID-19 safety protocols in place does anyone really want to sit indoors to eat and dance for 4 hours. Most indoor banquet halls have closed for good due to COVID, leaving outdoors venue in the states being at all time demand. When demand come so does the inflation!
Do you know that 95% of the wedding venues in Cabo are outdoors, leaving you with more to choose from at a better rate! Why would bride want to be limited on her options for her dream day? The weather in Cabo is perfect next to none leaving you many moths throughout the year to choose the date you have always been wanting. Picture your first dance on an outdoor rooftop terrace overlooking the ocean with Land's End in the background. All your family and friends enjoying the cool ocean breeze as they dine and dance.
For those couples still planning a wedding in Cabo during COVID-19, take into consideration that the heartbeat of Cabo is based on tourism. That alone speaks high regards for Cabo to ensure health and safety protocols. Resorts and wedding venues in Cabo have surpass the mark for the new COVID safety protocols. Without a doubt you and your guests are in safe hands.
Love will triumph and prevail! Planning a Cabo Wedding during COVID-19 is still possible!